Due to COVID-19, the Columbia University Amateur Radio Club in-person VE exams are suspended. However, we are able to do a very limited number of remote video-supervised exams with a preference for those in the NYC area who would normally come to one of our in-person sessions. 
Warning: The online exam-taking process is much more complicated and will take a lot more time than the in-person exams. You might want to just wait until we are able to resume in-person sessions. If you really need an exam now, see the information below. You must be able to meet and agree to all of the following requirements in order to take a video-supervised exam.
VIDEO-SUPERVISED EXAM OVERVIEW
The CUARC Volunteer examiner (VE) team has been entrusted by the ARRL VEC, and by extension the FCC, to be examiners for an FCC-issued license. The volunteer examiners have a duty to ensure that tests are conducted fairly and that there is the same level of integrity as there would be for an in-person examination. 
The exam session is conducted using a Zoom online video conference and a web-based exam-taking system. The candidate joins the video conference using two Zoom capable video devices simultaneously. The two video streams combined with screen sharing give the three VEs a similar view to what they would have for an in-person test. During the exam, all three VE's attention will be focused on monitoring a single candidate. Before the exam begins, using video, the candidate must show the three VEs the entire area where the test is taking place. This is similar to what the three VEs would be able to see during an in-person exam.
The process may seem onerous and somewhat invasive. It may seem like we suspect that each candidate might try to cheat. The CUARC VE team did not come up with the complete process and requirements, but we have a liability to uphold the trust put in us. Please read through the requirements and understand what will be asked of you before registering. If you don't agree, please consider another option for taking your test.
WHAT TO CONSIDER BEFORE REGISTERING
Please consider the commitment required before registering. We are required to have three VEs continuously monitor each candidate for the duration of the test. Using video conferencing, only one candidate can be examined at a time. Therefore, three people are dedicating their personal time to you while you take the test which is typically around 30 minutes.
There is a backlog of candidates waiting for tests. When you sign up, you will be taking up one of the very few available spots. Please make sure you are completely prepared for the exam before signing up. Thoroughly review the technical requirements and ensure you will be able to get through the sessions without any issues.
Please do not register for multiple exam sessions (with ours or other VE teams) with the intention of missing later sessions once you pass at an earlier session: By doing so you are denying other candidates the opportunity to register and generating extra work and lost time for the VEs.
If you are under age 18, we will need to receive parental or legal guardian permission and that person will need to be present in person to state their approval, prove their identity, and remain present in the room during your exam. Further, if you are under age 13, your parent or guardian will need to fill out a COPPA Parental Consent Form and email it as directed on the form.
Be aware of the exam software's privacy policy.
Review the instructions on page 2 of the NCVEC Form 605. You do not need to fill out this form; that is handled by the online exam system at hamstudy.org.
Review the FCC RF Safety Requirements. You will be certifying that you have read and will comply with them when you sign your online Form 605 after successfully completing the exam.
TECHNICAL REQUIREMENTS: 2 ZOOM DEVICES
You will need two separate devices running Zoom:
A computer with a webcam, and an up-to-date Google Chrome web browser. Older versions of Internet Explorer do not work. Other browsers may not work.
A second device (such as a cell phone or tablet; or another computer) with a camera.
On the computer you must install the Zoom video conferencing application. Note: You must install the Zoom application, not use the browser version.
During the examination, only one display must be connected to the computer.
The computer must be located in a room that is appropriate for taking an exam. Your screen will be shared with the VEs for the duration of the exam. Preferred computers are Windows PC, or Apple Mac. Unfortunately Chromebooks (and probably IoS and Android devices) do not work correctly with Zoom for the main exam computer.
NOTE FOR MAC USERS: "Due to increased security and permissions with Mac OS 10.14 Mojave and 10.15 Catalina, you will be prompted to authorize the Zoom Desktop Client to use the microphone, camera, and on Mac OS 10.15 Catalina, screen recording. The permissions are set within System Preferences of the device." We have found that, as of the most recent Zoom 5.x clients, you will be forced to exit and restart Zoom for these changes to take effect. Please make sure you have done this prior to joining your video-supervised exam session.
The second device will also be logged into the Zoom video conference for the duration of the exam. It provides the VEs a side view of the candidate and the computer they are using. At the start of the test session, the candidate will use the second device's camera to show the room, desk, etc. where the test is taking place.
You also need a reliable Internet connection that can keep both the computer and the cell phone connected to Zoom for the duration of the exam.
And, both devices should be wall powered, or have sufficient battery power, to keep them running for at least an hour. If the test session is interrupted, the exam is terminated.
REGISTER WELL IN ADVANCE
Register at https://hamstudy.org/sessions/n2ygk. HamStudy will walk you through the process of collecting necessary information for your NCVEC 605 form. Do not fill out an NCVEC 605 yourself; a completed form will be filled out for you upon successful exam completion and you will sign it electronically at that point.
N.B. Ours are not the only online exam sessions!  See https://hamstudy.org/sessions/online for more. Do be aware that each VE team has a different style for administering exams, so please read up on their specifics before signing up.
If our listed sessions are full do not despair! We publish additional sessions regularly (about two weeks in advance), so please check back at https://hamstudy.org/sessions/n2ygk.
WHAT'S IT GOING TO COST?
The fee(s) to get a ham radio license are:
Examination Fee: An exam fee is charged and collected in advance as described in the next section.
Starting April 19, 2022, the FCC has instituted a new additional application fee that is paid after you pass the test and the ARRL/VEC has entered this fact into the FCC database. You will receive a separate email invoice from the FCC for this fee.
The ARRL has a program to reduce the first-time licensing cost for young (under-18) applicants. This reduces the exam fee to $5 and offers a grant to reimburse the $35 FCC fee.
EXAM FEE PAYMENT IS REQUIRED IN ADVANCE
After you've registered and been moved off the waitlist, you'll receive an email with payment instructions.
We use Venmo or PayPal for payment of the standard exam fee. You will have to install the Venmo banking app on your iPhone or Android device. You can use PayPal from a web browser or with the app.
If you don't personally have any of these payment apps, it's fine if a friend or family member pays for you.
In all cases make sure the payment memo has your name and the 4-digit PIN that was assigned to you when you registered.
Failure to send payment within 24 hours of receipt of the request for payment may result in your session reservation being cancelled.
This exam fee will be forwarded to the ARRL/VEC less any allowable expenses incurred per FCC Rule §97.527.
Unfortunately, we are unable to accept any other forms of payment at this time.
PREPARING FOR YOUR EXAM
Prepare the following before your online exam session:
PHOTO ID: A legal photo ID will need to be shown on camera to the VE Team. For online sessions the VE Team will only accept driver's license, equivalent state-issued non-driver ID or passport for adults.
Under-18 students may show any of the above items, or a school ID or report card. A parent or legal guardian will also need to present a photo ID.
FCC Registration Number (FRN): The FRN must be submitted on the exam application. If you do not have an FRN, you will be able to register for one when you register oh hamstudy.org. Or, you can do it yourself by visiting the FCC's Registration page and clicking "Register for an FRN."
Exam Application: Before your scheduled exam you will register for a specific exam session where you will fill out an exam application. Your application will generate a 4-digit access code you need to take the test later. Don't worry, Hamstudy will email you the access code and the VE team will also know it. Shortly after you register on Hamstudy, the VE Manager will email you instructions on how to send payment.
License Upgrading: If you have a pending Certificate of Successful Completion of Examination (CSCE) from a previous exam session that is not yet reflected in the FCC database, please reply to the VE team email with a copy.
No Element Retries: Due to the current backlog of candidates on the waiting list and difficulty of administering exams online, you may take only ONE instance of an exam element per session. If you don't pass, you will have to sign up to get on the waitlist and go through this process again to retake the test.
Multiple Exam Elements: We will allow you to take additional exam elements if you pass earlier elements, but only if you are well prepared for the additional elements and have indicated the elements that you plan to take as part of your session registration. There is no additional fee for additional elements but we need to know your plans so we can schedule your and other candidates' exam sessions accordingly, since we are only able to supervise one exam at a time.
PREPARING YOUR COMPUTER AND MOBILE DEVICE
In order to allow the VE Team to ensure the integrity of the exam session, please make sure your computer and separate mobile device are ready by following these steps:
Make sure your computer has Zoom installed and that you can participate in a video call using the computer's webcam, microphone, and speakers. Headsets may not be used during the exam. Your computer should be connected to power, or fully charged to last for at least an hour.
Make sure Zoom is installed on your mobile device (such as a smart phone) and that the camera works. You will need to mute both the microphone and speaker on your mobile device to prevent feedback. Your mobile device should be fully charged or connected to power.
On both devices make sure to set your name in Zoom so that we know who you are in the waiting room.
Find a way to aim your mobile device's camera so that the VEs will have a full (side) view of you and your computer during the exam.
Your computer and phone must be connected to the Internet with reliable service. If the connection drops during the exam, the exam will be terminated.
We strongly suggest thoroughly testing Zoom with both devices at the same time well in advance of the test so that you have time to resolve any issues that come up. Practice using Zoom on both your devices here: https://zoom.us/test.
Before the exam, disable/shut down anything that might pop-up on your computer during the exam. This includes email, chat, alerts, bluetooth, virtual screens and password managers. 
Set 'Do Not Disturb' on your mobile device so you aren't distracted by incoming calls or text messages.
During the exam:

only only one screen or monitor can be connected to the computer. Remove any additional monitors, or take a single laptop into a different room. You must prove that no other monitors are connected. The VE team may end the exam immediately for non-compliance.
Only a browser with a single window and no other tabs can be open. You may optionally have a computer calculator app on your screen during the exam. Load it in advance if you need it. No other applications or browser windows are permitted to be open.
PREPARING YOUR EXAM ROOM
The VE Team must ensure the integrity of the test environment. Be sure you have an isolated area where you can take the exam without any interruptions that might cause your exam session to be terminated:
You must not have in the exam room any other people. 
Clear the room of all non-exam materials, notes, books, posters, computer screens, or anything that could aid in taking the exam.
Clear your exam table and floor of ALL items within reach or view that would raise suspicion, such as papers, sticky notes, electronic items, headphones, waste baskets, and anything unnecessary for the exam.
Clear the room of any distracting things that could take your attention off of the exam.
Warn family members not to enter the room during the exam.
Before the exam begins, you will be asked to show the three VEs the entire room, including the walls, floor, ceiling, desk area, and area under the desk to give them the confidence that the exam is taking place in an appropriate environment.
PRACTICE FOR YOUR EXAM
It is your responsibility to be fully prepared since you will be taking the time of three or more volunteers and a time slot from a long list of wait-listed candidates. Use an online practice site to practice all topics and to take randomly selected practice exams. Be sure you are consistently scoring well above the passing grade before you schedule an exam. Some recommended sites:
–– HamStudy.org, a free site with lots of tips. It has an inexpensive companion phone app you can use on the go. The actual exam you take will use the HamStudy testing system, so familiarize yourself with how it works.
–– ARRL Exam Review for Ham Radio™, a free site from the national group that you may want to join and use for referencing a wealth of information. 
JOIN THE ZOOM MEETING TO TAKE THE EXAM
15 minutes before your scheduled time, join the Zoom meeting. The meeting information will be sent to you by email once you've successfully registered and paid the exam fee.
SPECIAL THANKS
We would like to thank New England Amateur Radio, Inc. for paving the way with the ARRL Volunteer Examiner Coordinator (VEC) and FCC in showing us how to do a proper video-supervised exam session, the ARRL/VEC for working with the FCC and Volunteer Examiner teams like ours, and examtools.org, for providing the platform we use to manage these exams. It has been a difficult transition from in-person proctored exams to fully remote video-supervised exams that meet the same standards and we appreciate your and their flexibility and support.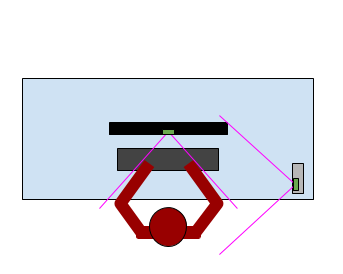 Suggested Zoom device layout:
1. Your computer camera points at you.
2. Your second device shows the side view of your hands on the keyboard.